simple
We're all after an easier life. Travelling to or from the train station doesn't have to be hassle - driving in traffic, trying to find a parking space or paying through the nose for a taxi. Simply buy a PlusBus ticket with your train ticket and you're sorted. We give you unlimited bus and tram travel on most/all operators services, around the whole urban area of your rail-served town or city.
freedom
Buy PlusBus to start your journey or to complete your journey. We've no peak period restrictions, so you can hop-on and off buses and trams as much as you like all day to make the journeys you need. PlusBus is accepted for travel on over 200 bus companies across Britain and on trams in Birmingham, Blackpool, Edinburgh, Nottingham, Sheffield and Wolverhampton.
Buy PlusBus with your train ticket at any National Rail station ticket office or online (from train company websites and most other online rail ticket retailers). See how to buy for details. You choose how and when you get your tickets - by post, courier or at a station. We're also available from self-service ticket machines at selected stations.
savings
PlusBus fares start from just £2.50 a day.  We're usually cheaper than buying a bus pass from the main bus company in town. For PlusBus fares for your town or city, simply type the town name (or post code) in the search boxes (at top of page).
Under 16 years old? You pay half our adult PlusBus day ticket prices.
Aged 16-25 years or a student? You get 1/3 off our PlusBus day ticket prices, with a 16-17 Saver or a 16-25 Railcard.
Adults: You get 1/3 off our PlusBus day ticket prices, with one of these Railcards:-
26-30 Railcard

Disabled Persons Railcard

Family & Friends Railcard

HM Forces Railcard

Network Railcard 

Senior Railcard

Two Together Railcard

Annual Gold Card
Railcard peak-time purchase restrictions apply, but minimum fares do not apply to PlusBus. 
seasons for commuters
We've season tickets for 7-days, a month, three months and a year (to match your rail season validity). 
tickets
PlusBus tickets are standard National Rail credit-card size or paper tickets (see images below). +Bus will always be printed after the town name that the ticket is valid for. For example: 'Reading+Bus'. Show the ticket to the bus driver or tram conductor.
   or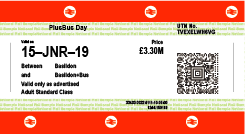 90% customer satisfaction
Research by watch-dog 'Transport Focus' found that 90% of our users were 'satisfied' or 'very satisfied' with their PlusBus ticket. Horray!
---
small print
Sorry, you cannot buy a PlusBus ticket if you're only making a short train journey between two stations that are located within the same towns PlusBus travel zone, or wholly within these city-wide regions: Greater Manchester; South Yorkshire; West Midlands; West Yorkshire. These city-regions have their own integrated train and bus ticketing schemes - click on the region name for details. Sorry, PlusBus ticketing is not available for London.
The PlusBus website has been designed to make it as accurate and up-to-date as possible. The site is content managed by the Traveline Information Ltd. We make every effort to ensure that all information on this site is correct and that all links to other sites remain current and activate properly.
However, neither PlusBus nor Traveline Information Ltd can be held responsible for any errors, omissions, false statements or inaccurate information or non-functioning links that might exist on this website.
Any loss, delay, damage or inconvenience caused to any persons or organisations as a result of any inaccurate information or problem with this website will not be considered as the responsibility of Traveline Information Ltd.
Persons visit this website on the basis that it provides information for guidance only.
If you find any error, omission or have a problem with any part of this website, please let us know by completing the 'Contact Us' email form. Please be as comprehensive as you can when explaining the nature of your enquiry or problem.
---
other multi-operator ticketing schemes
For details of other multi-operator integrated tickeing schemes around Britain.
---